Chuck Jones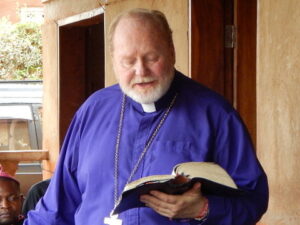 Founder, President, Teacher and Prophet
"For the eyes of the Lord move to and fro throughout the earth that He may strongly support those whose heart is completely His ." (II Chronicles 16:9a)
My Bio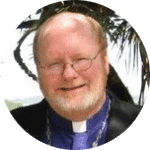 Charles (Chuck) Jones is the Archbishop of the Southeast, Bishop of the Central Gulf Coast and Pastor of the Cathedral of Christ the King Church in Selma, Alabama, a church in communion with the International Communion of the Charismatic Episcopal Church (ICCEC) and Founder of Aslan Roars, a ministry for igniting sustainable revival on personal, corporate and geographic levels.
Graduated from University of Alabama Birmingham in 1973 with a BA in Nuclear Medicine and worked in that field for five years. Graduated in 1984 with a BA in Bible and Theology from Southeast Bible College (SEBC) and has his Masters of Divinity from St. Michael's Seminary, CA. He was ordained a minister in 1983 and became the pastor of the Christ the King Church in Selma in 1985. He was consecrated Bishop of the Diocese of the Central Gulf Coast on April 25, 1997 and in 2005 became the Archbishop of the Southeast overseeing four diocese (7 states).
Collaborated in the development of 'Lazarus Weekends' – a ministry focused on the healing of those obstacles blocking spiritual and emotional growth and offered through Christ the King. Currently chair's the ACTS council (Apostolic Council – Transformation Selma) a committee formed to help facilitate revival in the City of Selma and also serves as chaplain to the Lighthouse Nursing home in Selma.
Archbishop Jones was the supervisor of the International Development Agency (ICCEC) between 2006 and 2010 whose main focus is building up and establishing churches abroad and now serves as Patriarch Legate to Africa. Leader of many healing tours throughout several countries where he witnesses many physical healings and conversions to Christianity.
Like Amos – first a teacher then a spokesman as the Lord directs. His teaching ministry takes him all over America as well as abroad. Moving in the prophetic and the healing gifts and releasing the Holy Spirit's supernatural activity in people's lives – where signs and wonders follow – is the hallmark of his ministry.
Passionate to see people love God with all their heart, soul, mind, and strength, and to grow in union with Christ as bearers of His presence. His heart's desire is to see every person and church experience real and sustainable revival. Aslan Roars' website is where you will find his teachings, daily devotionals and prophetic insights. This site is viewed by hundreds from all over the world. (www.aslanroars.com)
Archbishop Jones lives in Selma, Alabama with his wife, Olivia who he has been married to since 1984, has two sons and three grandsons.
My Story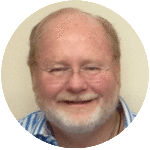 I'm over 60 years old now so I've reached the Babu stage. There is baba which is father in Swahili and there is babu which is grandfather. My grandchildren call me Babu. So as a grandfather, I can give to you a story about a person who was mentally ill, walked into revival and, after more than 36 years, can tell you that it's real. We should be passionately determined to not settle for anything less than a revived life. He's not a respecter of persons. It's not for a select few who have been positioned in certain places. My story is a testimony to that.
I asked Christ, to come into my life through a 4 spiritual law booklet when I was 12 years old. When I was 23 years old and suffering from clinical depression and clinical anxiety, I finally surrendered my life to Christ but in 1978 at the age of 25, I encountered the Lord in such a way that I entered into personal revival.
I came to the Lord gifted with mental illness. It was a gift because I came out of the shoot desperate. Just knowing that my sins were forgiven and that I was going to go to heaven one day wasn't enough. I was birthed into an atmosphere of desperation. I didn't care a whole lot about theology except the theology of getting healed because being mentally ill is a horrible, horrible experience. It was entering into revival, personal revival, that God used to change my life. When we talk about revival, we are actually talking about being restored to the normal life that has always been intended for us.  It is Christ-likeness on full display – His presence gloriously resting on you, victoriously reigning in you, and supernaturally released through you. I experienced that and it's been my passion ever since then because I know how it has changed me.
I've never lost a sense of desperation to cling to Him because I know what's on the other side of the door. I know that the darkness of my flesh is there waiting for me and, if I walk out of this place I call revival, I know what's waiting for me. It may take a few weeks to get there but it will certainly get there. So that's why I say the great gift in my life was mental illness. God used it like a crook in a shepherd's staff to keep me really close to the Shepherd. I'm scared to go there and I'm grateful for that because God knows my tendency would probably be just to wander in and out that door a lot.
Now, there have been several new beginnings since then, where the battle choices brought me into places where I had to restore, refresh, that which God had done. That process is one of the reasons I have been so infatuated with the whole idea of revival. Hopefully what we share on Aslan Roars will provoke some thinking and some seeking so that you put yourself in a position that God can do a new work in your life.