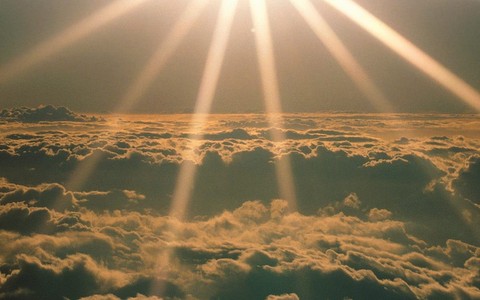 The Heart of the Matter 08.06.13
Just recently I was in Wilmington NC speaking for several days at a church and on my way to lunch I found myself asking the Lord about the heart of the matter.  I was asking the lord to succinctly tell me what he wants to accomplish not just in my life but on the earth today and in the church.  We hear a lot from people who think they know what this revival is going to look like and what is going to characterize this revival geographically, in person's lives and of course corporately.  I have heard people talk about the characteristics of this revival, how it is going to be about extravagant affection, repentance or holiness and many think it is about the harvest of the lost as it has been historically at the heart of the Lord.  But the harvest of the lost is going to come as a consequence of the church being revived.  The harvest of the lost isn't the first thing that will happen, the first thing in this revival will be life restored at a high level.  The church that blissfully longs for the heights as described in Isaiah 38:14 find themselves abiding there experientially seated in heavenly places in Christ moving in and out from that place in Christ.  In asking the Lord what he will do he reminded me that a few weeks ago while speaking to another group I described to them what I thought revival will look like and what the characteristics will be.  It will be characterized by extravagant affection for Christ our bride groom, but also characterized by extraordinary Christlikeness and holiness.  When I use the word Christlikeness I don't mean an imitation of Jesus instead it is a participation in his very life.  Where we once again allow him to live through us a life we so feebly tried to live for him.  A Galatians 2:20 life that's what I mean by extraordinary Christlikeness.  Not us trying to be like Christ but us in absolute surrendered faith allowing Christ himself to take over his body and to live his life through us.
When I was riding down the road that day and asked the lord to simplify it for me this immediately rose up in me and I knew it was God's answer and I have been praying this ever since.  I believe this is sort of a prayerful explanation of what God is doing in our lives and what we should expect it to look like in our lives and what God is doing in his body so that 'she' can be the net he uses to bring in the harvest.  This is the prayer:  'Lord I want to love you like your bride, honoring you as my Lord and I want to live for you like your body, trusting you as my life.'
I believe that is going to be the heart cry of the church.  I believe it is the two things we are seeing God do.  We are his bride and we are His body these are the two metaphors used in the bible describing the church.  We are his bride and we are to love him with deep extravagant affection and therefore honor him as Lord, living totally surrendered lives and secondly that we live for him like we are his body.  Once again the church discovers that Jesus Christ came to live in us that he might live his life through us.  That we will come to understand the dynamics of a surrendered body allowing Christ in union with us to manifest his own glory presence and power through our humanity.  That we will stop living for him a life to him that only he himself can live through us.  That we would once again discover Christ died for us so that risen from the dead he can come live in us and therefore live his life through us. To be his body!  Those are the two things I believe God is doing in this revival and in our day. 
'Lord I want to love you like your bride, honoring you as my Lord and I want to live for you like your body, trusting you as my life.' 
Just recently I was in Wilmington NC speaking for several days at a church and on my way to lunch I found myself asking the Lord about the heart of the matter.  I was asking the lord to succinctly tell me what he wants to accomplish not just in my life but on the earth today and in the church.  We hear a lot from people who think they know what this revival is going to look like and what is going to characterize this revival geographically, in person's lives and of course corporately.  I have heard people talk about the characteristics of this revival, how it is going to be about extravagant affection, repentance or holiness and many think it is about the harvest of the lost as it has been historically at the heart of the Lord.  But the harvest of the lost is going to come as a consequence of the church being revived.  The harvest of the lost isn't the first thing that will happen, the first thing in this revival will be life restored at a high level.  The church that blissfully longs for the heights as described in Isaiah 38:14 find themselves abiding there experientially seated in heavenly places in Christ moving in and out from that place in Christ.  In asking the Lord what he will do he reminded me that a few weeks ago while speaking to another group I described to them what I thought revival will look like and what the characteristics will be.  It will be characterized by extravagant affection for Christ our bride groom, but also characterized by extraordinary Christlikeness and holiness.  When I use the word Christlikeness I don't mean an imitation of Jesus instead it is a participation in his very life.  Where we once again allow him to live through us a life we so feebly tried to live for him.  A Galatians 2:20 life that's what I mean by extraordinary Christlikeness.  Not us trying to be like Christ but us in absolute surrendered faith allowing Christ himself to take over his body and to live his life through us. When I was riding down the road that day and asked the lord to simplify it for me this immediately rose up in me and I knew it was God's answer and I have been praying this ever since.  I believe this is sort of a prayerful explanation of what God is doing in our lives and what we should expect it to look like in our lives and what God is doing in his body so that 'she' can be the net he uses to bring in the harvest.  This is the prayer:  'Lord I want to love you like your bride, honoring you as my Lord and I want to live for you like your body, trusting you as my life.' I believe that is going to be the heart cry of the church.  I believe it is the two things we are seeing God do.  We are his bride and we are His body these are the two metaphors used in the bible describing the church.  We are his bride and we are to love him with deep extravagant affection and therefore honor him as Lord, living totally surrendered lives and secondly that we live for him like we are his body.  Once again the church discovers that Jesus Christ came to live in us that he might live his life through us.  That we will come to understand the dynamics of a surrendered body allowing Christ in union with us to manifest his own glory presence and power through our humanity.  That we will stop living for him a life to him that only he himself can live through us.  That we would once again discover Christ died for us so that risen from the dead he can come live in us and therefore live his life through us. To be his body!  Those are the two things I believe God is doing in this revival and in our day.  'Lord I want to love you like your bride, honoring you as my Lord and I want to live for you like your body, trusting you as my life.'