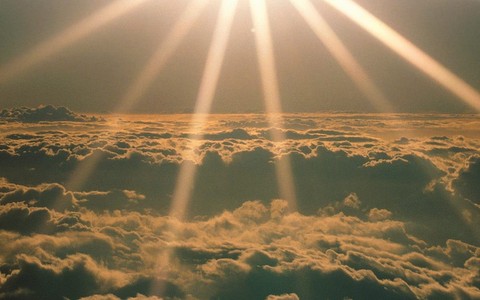 May 27th ( Update)
This is a word I posted on May 14 about the 27th. Below that is a word posted on the Elijah list by a lady named Wendy m. Christie that is a confirming word. Thought it would be encouraging to you. We will talk more about this season in the days to come.
The Lord has been showing me that May 27th will be a major shift day in the spirit. The idea of seasons in the natural are just a reflection of the fact that there are seasonal shifts in the spirit realm. I don't really know anymore, but I will report what I see and hear.
Wendy M. Christie:
A Great Shift – Destinies Are Being Fulfilled!
The Lord told me that May 27, 2012, was a turning point for the Body of Christ. He said that we will SEE a great shift, and His government alignment will begin to reign in the earth. What was warred over in the past season (and this could have been a very long season – for some, even up to ten years or more) will come to fruition and manifestation before our very eyes! Destinies will be fulfilled for the glory of our King Jesus!
A Re-Direction to Apostolic Leaders…
And the Lord said, "To My apostolic leaders, the time for idleness, complacency and passivity has passed. Say 'goodbye' to Ahab! I release you to move in your true authority – let no one (man or woman) usurp it from you! Let your yes be yes and your no be no! Alignment has come, and the marriage of the apostolic and prophetic is upon you. Do not disregard the prophetic office – there will be a respect given to the words spoken from My mouth, for My prophets are the mouthpiece of your God. Listen carefully, for there will soon be instruction, strategies, and your 'coordinance' (instructions and directions for a precise destination which must be executed in unity) is coming from My throne.
"A call is being released, even now, to the fathers and the mothers – the apostolic in ALL the giftings. I tell you to ariseand come forth and take your places of authority in the earth! For behold, those wayward families will be restored to unity, and the prodigal sons are returning. Fathers and Mothers, pray what I am saying over those whom you are 'parenting' and you will see those prayers come to pass very quickly, for I AM is restoring the Joshuas, who will say, 'As for me and my house, we will serve the Lord' (Joshua 24:15).
"The walls of religion and fear are coming down! I AM is changing and shifting the atmosphere even now on behalf of My sons. The doors are opening for your destinies and for the provision that you will need to carry out My plans in the earth"(Revelation 3:7-8).
God's work will be fully funded – we can rest assured that He has got our backs on this (2 Corinthians 9:8).
Be Courageous…
"The doors are shut to the wiles of the enemy. No more distractions, no more resistance; for if you will resist your enemy first (be on the offense instead of the defense – not to fight our own battles, but rather, stand in love, knowing that the battle is already won by My Spirit), he (the enemy) will flee from you! A season of blessing, abundance and a great release of My glory is upon you! You shall do exploits in My name, for My glory and for My namesake in the earth. Go, Judah, and take your landfor the glory of your King – harvest is here and now, harvest is here and now, harvest is here – take it now, and be courageous, that your joy may be full, says the Lord of Hosts!"
What does "be courageous that your joy may be full" mean?
COURAGEOUS – the act of facing one's fears.
Once you truly face a fear and overcome it (i.e. do not run away from it), it doesn't exist anymore. The Lord said, "The only fear you will ever be free from is that which you are willing to confront! I AM is about to cause there to be a love revolution!Make a joyful noise unto your God and see the atmosphere change on your behalf, for joy is a force. Those who have fear mourn, and those who are free from fear exist in My love and have joy."
Also, part of facing this fear is facing the "fear of man," or some would call it "people pleasing" (keeping in mind order and respect for our authorities). Part of being able to exist in love and being able to have joy is first being able to be authentic in Christ. We cannot be authentic if we are busy "people pleasing" because we think we need the approval of man in order to do something for the Lord, or if we care too much what others think of us. We need to face the fear of man and "call its bluff." God's approval is what truly counts. Surrendering all of our heart to Him and being authentic is the beginning of the process to maturity and purity in Christ (see Luke 9:57-62).
Hearts of Purity
God has been speaking to many in the Body of Christ aboutpurity – He wants our undefiled heart of purity so there is a pure flow of His love coming out of our heart and into others' lives. God is calling all in His Body to this purity in Him (not our self-righteousness), and the leaven/flesh is being shaken off – it all must go (see Hebrews 12:27)! If we are to be a part of God's great army, our undefiled hearts of purity are the measure. He is calling us to be love – His love in the earth. Our idols must go, especially the idol of "self." If we are not completely Spirit-led in all of our ways, even if we "think" we are doing something good, fighting for a good cause or doing "the right thing," yet we haven't sought God concerning the matter, then we are in the flesh and making our own will an idol. This may sound a little harsh, but it is the truth and the truth will set us free!
And the Lord said, "I AM is rightly dividing the truth from the lie. A little leaven leavens the whole of the lump; if there is anyleaven in a thing, then that entire thing is not pure at all. There must be no debris stopping up the flow in your hearts. I want My people to get a hold of this truth. Surrender your entire heart to Me, surrender your entire life to Me and I will then purify your hearts, and your deeds will then flow out from a heart of purity, and this is what will glorify Me – not your dead works of the flesh.
"No more of this defiling yourselves or others. No more putting other things or people above Me and My will. You have held on to this leaven as a form of security because you have not wanted to trust in Me completely with your entire heart. The leaven will never save you, and is, in truth, 'false security' and 'false hope' (hope in Christ is the only hope that truly exists).
"Do not be deceived. I AM is the only Source for purity. In all truth, you can only find it in Me alone. My purity and healing are coming to My Body as you surrender every part of your being to Me alone – I want your entire heart. So, surrender all to My will and My purposes, for there is coming a great revival, and it is here even now," says God. "Lift up your faces and look to where your help comes from, for it comes from Me alone, the Author and the Finisher of your faith. I AM bringing the valleys up high and the mountains down low, and I am causing the true path to be made very clear to you. I AM is causing there to be a love revolution – even on the streets of your cities; and many will be saved, and many will be filled, and many will be healed, and many will be whole. Look for it and believe in Me, and you shall see My salvation," says the Lord of Hosts.
We must remember that it is not about us – it is all about Him, His will, and His purposes. This is the truth that will be the "mark" of the true apostolic in the earth…
Let us pray: Father, we come to You in Jesus' name and we ask that You would help all of us to surrender our heart completely to You and to Your will and Your purposes. Thank You for helping us to see and understand that it is not about us, it is about You. Help us to be rooted and grounded in the Love of Christ, so that we may BE an example of who You truly are. Father, help us to turn from our own fleshly desires and fears so that we may be able to be authentic. And, thank You for the glory that You will flood the earth with as a result. We thank You that You are right there leading us and guiding us through this process to purity – being Spirit-led in all of our ways and all that we are. We thank You and praise You for this, in Jesus' mighty name we pray, amen.
Here is the connection between being courageous that takes us to being "fearless" so that our JOY may be full. Why? Because we are then abiding in His love…
If you keep My commandments, you will abide in My love, just as I have kept My Father's commandments and abide in His love. These things I have spoken to you so that My joy may remain in you, and that your joy may be full. John 15:10-11 NKJV
And we have known and believed the love that God has for us. God is love, and he who abides in love abides in God, and God in him. Love has been perfected among us in this: that we may have boldness in the day of judgment; because as He is, so are we in this world. There is no fear in love; but perfect love casts out fear, because fear involves torment. But he who fears has not been made perfect in love. We love Him because He first loved us. 1 John 4:16-19 NKJV
Other Scripture References:
James 5:12; 2 Corinthians 1:17-22; Romans 8:14, 19; Philippians 2:14-15; Daniel 11:32; Zechariah 2:10-13; Judges 1:2; Matthew 5:8; Psalm 24; 1 Corinthians 5:6; Matthew 7:21-29; 1 John 3:3; 1 Peter 1:22; Jeremiah 33
Elijah List Homepage | Elijah List Ministries | Breaking Christian News | Prophetic.TV
Permission is granted (and you are also encouraged) to reprint these articles in hard copy form, as well as sending them to your own email lists and posting them on your own websites. We ask only that you keep ElijahList website, email contact info, and author contact information intact.
Forward email
This email was sent to ps30mj@gmail.com by propheticword@elijahlist.com |
Instant removal with SafeUnsubscribe™ | Privacy Policy.
Elijah List Publications | 528 Ellsworth St SW | Albany | OR | 97321
This is a word I posted on May 14 about the 27th. Below that is a word posted on the Elijah list by a lady named Wendy m. Christie that is a confirming word. Thought it would be encouraging to you. We will talk more about this season in the days to come. The Lord has been showing me that May 27th will be a major shift day in the spirit. The idea of seasons in the natural are just a reflection of the fact that there are seasonal shifts in the spirit realm. I don't really know anymore, but I will report what I see and hear. Wendy M. Christie: A Great Shift – Destinies Are Being Fulfilled! The Lord told me that May 27, 2012, was a turning point for the Body of Christ. He said that we will SEE a great shift, and His government alignment will begin to reign in the earth. What was warred over in the past season (and this could have been a very long season – for some, even up to ten years or more) will come to fruition and manifestation before our very eyes! Destinies will be fulfilled for the glory of our King Jesus! A Re-Direction to Apostolic Leaders... And the Lord said, "To My apostolic leaders, the time for idleness, complacency and passivity has passed. Say 'goodbye' to Ahab! I release you to move in your true authority – let no one (man or woman) usurp it from you! Let your yes be yes and your no be no! Alignment has come, and the marriage of the apostolic and prophetic is upon you. Do not disregard the prophetic office – there will be a respect given to the words spoken from My mouth, for My prophets are the mouthpiece of your God. Listen carefully, for there will soon be instruction, strategies, and your 'coordinance' (instructions and directions for a precise destination which must be executed in unity) is coming from My throne. "A call is being released, even now, to the fathers and the mothers – the apostolic in ALL the giftings. I tell you to ariseand come forth and take your places of authority in the earth! For behold, those wayward families will be restored to unity, and the prodigal sons are returning. Fathers and Mothers, pray what I am saying over those whom you are 'parenting' and you will see those prayers come to pass very quickly, for I AM is restoring the Joshuas, who will say, 'As for me and my house, we will serve the Lord' (Joshua 24:15). "The walls of religion and fear are coming down! I AM is changing and shifting the atmosphere even now on behalf of My sons. The doors are opening for your destinies and for the provision that you will need to carry out My plans in the earth"(Revelation 3:7-8). God's work will be fully funded – we can rest assured that He has got our backs on this (2 Corinthians 9:8). Be Courageous... "The doors are shut to the wiles of the enemy. No more distractions, no more resistance; for if you will resist your enemy first (be on the offense instead of the defense – not to fight our own battles, but rather, stand in love, knowing that the battle is already won by My Spirit), he (the enemy) will flee from you! A season of blessing, abundance and a great release of My glory is upon you! You shall do exploits in My name, for My glory and for My namesake in the earth. Go, Judah, and take your landfor the glory of your King – harvest is here and now, harvest is here and now, harvest is here – take it now, and be courageous, that your joy may be full, says the Lord of Hosts!" What does "be courageous that your joy may be full" mean? COURAGEOUS - the act of facing one's fears. Once you truly face a fear and overcome it (i.e. do not run away from it), it doesn't exist anymore. The Lord said, "The only fear you will ever be free from is that which you are willing to confront! I AM is about to cause there to be a love revolution!Make a joyful noise unto your God and see the atmosphere change on your behalf, for joy is a force. Those who have fear mourn, and those who are free from fear exist in My love and have joy." Also, part of facing this fear is facing the "fear of man," or some would call it "people pleasing" (keeping in mind order and respect for our authorities). Part of being able to exist in love and being able to have joy is first being able to be authentic in Christ. We cannot be authentic if we are busy "people pleasing" because we think we need the approval of man in order to do something for the Lord, or if we care too much what others think of us. We need to face the fear of man and "call its bluff." God's approval is what truly counts. Surrendering all of our heart to Him and being authentic is the beginning of the process to maturity and purity in Christ (see Luke 9:57-62). Hearts of Purity God has been speaking to many in the Body of Christ aboutpurity – He wants our undefiled heart of purity so there is a pure flow of His love coming out of our heart and into others' lives. God is calling all in His Body to this purity in Him (not our self-righteousness), and the leaven/flesh is being shaken off – it all must go (see Hebrews 12:27)! If we are to be a part of God's great army, our undefiled hearts of purity are the measure. He is calling us to be love – His love in the earth. Our idols must go, especially the idol of "self." If we are not completely Spirit-led in all of our ways, even if we "think" we are doing something good, fighting for a good cause or doing "the right thing," yet we haven't sought God concerning the matter, then we are in the flesh and making our own will an idol. This may sound a little harsh, but it is the truth and the truth will set us free! And the Lord said, "I AM is rightly dividing the truth from the lie. A little leaven leavens the whole of the lump; if there is anyleaven in a thing, then that entire thing is not pure at all. There must be no debris stopping up the flow in your hearts. I want My people to get a hold of this truth. Surrender your entire heart to Me, surrender your entire life to Me and I will then purify your hearts, and your deeds will then flow out from a heart of purity, and this is what will glorify Me – not your dead works of the flesh. "No more of this defiling yourselves or others. No more putting other things or people above Me and My will. You have held on to this leaven as a form of security because you have not wanted to trust in Me completely with your entire heart. The leaven will never save you, and is, in truth, 'false security' and 'false hope' (hope in Christ is the only hope that truly exists). "Do not be deceived. I AM is the only Source for purity. In all truth, you can only find it in Me alone. My purity and healing are coming to My Body as you surrender every part of your being to Me alone – I want your entire heart. So, surrender all to My will and My purposes, for there is coming a great revival, and it is here even now," says God. "Lift up your faces and look to where your help comes from, for it comes from Me alone, the Author and the Finisher of your faith. I AM bringing the valleys up high and the mountains down low, and I am causing the true path to be made very clear to you. I AM is causing there to be a love revolution – even on the streets of your cities; and many will be saved, and many will be filled, and many will be healed, and many will be whole. Look for it and believe in Me, and you shall see My salvation," says the Lord of Hosts. We must remember that it is not about us – it is all about Him, His will, and His purposes. This is the truth that will be the "mark" of the true apostolic in the earth... Let us pray: Father, we come to You in Jesus' name and we ask that You would help all of us to surrender our heart completely to You and to Your will and Your purposes. Thank You for helping us to see and understand that it is not about us, it is about You. Help us to be rooted and grounded in the Love of Christ, so that we may BE an example of who You truly are. Father, help us to turn from our own fleshly desires and fears so that we may be able to be authentic. And, thank You for the glory that You will flood the earth with as a result. We thank You that You are right there leading us and guiding us through this process to purity – being Spirit-led in all of our ways and all that we are. We thank You and praise You for this, in Jesus' mighty name we pray, amen. Here is the connection between being courageous that takes us to being "fearless" so that our JOY may be full. Why? Because we are then abiding in His love... If you keep My commandments, you will abide in My love, just as I have kept My Father's commandments and abide in His love. These things I have spoken to you so that My joy may remain in you, and that your joy may be full. John 15:10-11 NKJV And we have known and believed the love that God has for us. God is love, and he who abides in love abides in God, and God in him. Love has been perfected among us in this: that we may have boldness in the day of judgment; because as He is, so are we in this world. There is no fear in love; but perfect love casts out fear, because fear involves torment. But he who fears has not been made perfect in love. We love Him because He first loved us. 1 John 4:16-19 NKJV Other Scripture References: James 5:12; 2 Corinthians 1:17-22; Romans 8:14, 19; Philippians 2:14-15; Daniel 11:32; Zechariah 2:10-13; Judges 1:2; Matthew 5:8; Psalm 24; 1 Corinthians 5:6; Matthew 7:21-29; 1 John 3:3; 1 Peter 1:22; Jeremiah 33 Elijah List Homepage | Elijah List Ministries | Breaking Christian News | Prophetic.TV Permission is granted (and you are also encouraged) to reprint these articles in hard copy form, as well as sending them to your own email lists and posting them on your own websites. We ask only that you keep ElijahList website, email contact info, and author contact information intact. Forward email This email was sent to ps30mj@gmail.com by propheticword@elijahlist.com | Instant removal with SafeUnsubscribe™ | Privacy Policy. Elijah List Publications | 528 Ellsworth St SW | Albany | OR | 97321