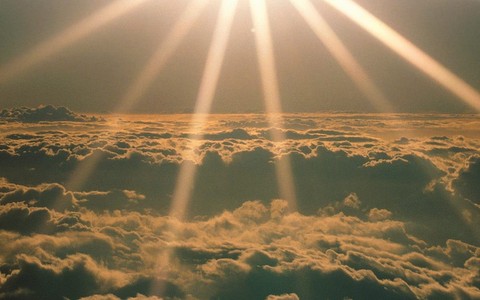 The Winds of Change 09.05.13
Psalm 18:10  10And He rode upon a cherub, and flew;
And He flew upon the wings of the wind.
Psalm 104:3  3He lays the beams of His upper chambers in the waters,
He makes the clouds His chariot,
He walks upon the wings of the wind,
John 3:8  8 The wind blows where it wishes, and you hear the sound of it, but cannot tell where it comes from and where it goes. So is everyone who is born of the Spirit."
The Lord walks and rides on the wings of the winds.
The Lord has been speaking a lot lately about changes and shifts so expect the winds of change, major change.  In those changes no matter how difficult they may seem, no matter how uncomfortable they maybe – because change is not something we are comfortable with – understand that the Lord rides and walks on the wind.   The Lord is riding in on those changes and is coming to you with his intentions, with his divine and eternal purposes.  Don't resist the winds of change and don't blame the winds of change on the enemy, even though there may be warfare involved.  Understand those winds of change are bringing the presence, the purposes and the glory of God into your life and situation because these winds of change are of him.  Look to him, go ahead and praise him before you see it all in the natural.  If you have been crying out for his presence then don't be surprised about his winds of change coming, that is how he is coming in this season.
We have to adjust to flow with this and it is important that you do because it brings his presence, it brings his purposes, it brings his glory.  Don't hide, don't protect yourself from change just throw yourself into the wind of change knowing that Jesus is riding in on those and it is the answer to your prayers.  You've been crying for his presence, you have been crying out for his power, his purpose, his glory, well he is coming and bringing all these things to you on these winds of change.
Given 08.27.13
Psalm 18:10  10And He rode upon a cherub, and flew; And He flew upon the wings of the wind. Psalm 104:3  3He lays the beams of His upper chambers in the waters, He makes the clouds His chariot, He walks upon the wings of the wind, John 3:8  8 The wind blows where it wishes, and you hear the sound of it, but cannot tell where it comes from and where it goes. So is everyone who is born of the Spirit." The Lord walks and rides on the wings of the winds. The Lord has been speaking a lot lately about changes and shifts so expect the winds of change, major change.  In those changes no matter how difficult they may seem, no matter how uncomfortable they maybe - because change is not something we are comfortable with - understand that the Lord rides and walks on the wind.   The Lord is riding in on those changes and is coming to you with his intentions, with his divine and eternal purposes.  Don't resist the winds of change and don't blame the winds of change on the enemy, even though there may be warfare involved.  Understand those winds of change are bringing the presence, the purposes and the glory of God into your life and situation because these winds of change are of him.  Look to him, go ahead and praise him before you see it all in the natural.  If you have been crying out for his presence then don't be surprised about his winds of change coming, that is how he is coming in this season. We have to adjust to flow with this and it is important that you do because it brings his presence, it brings his purposes, it brings his glory.  Don't hide, don't protect yourself from change just throw yourself into the wind of change knowing that Jesus is riding in on those and it is the answer to your prayers.  You've been crying for his presence, you have been crying out for his power, his purpose, his glory, well he is coming and bringing all these things to you on these winds of change. Given 08.27.13