Mike Paciello
Unity Facilitator
"He has told you, O man, what is good; and what does the Lord require of you
but to do justice, to love mercy, and to walk humbly with your God?" (Micah 6:8)
My Bio
Michael (Mike) Paciello is a priest at Christ the King Selma, AL, a church in communion with the International Communion of the Charismatic Episcopal Church, Provincial Director of the Office of Reconciliation and Unity Facilitator for Aslan Roars.
Graduated from Villanova University in 1976 with a BS in Finance. Worked with International Paper for 5 years before starting his own executive search firm which he ran until his call to the ministry in 1983. Graduated from Trinity Episcopal Seminary in 1987 with a Masters in Divinity. He was ordained in Colorado into the Episcopal Church and served parishes in Colorado, West Virginia and New York. He was the Associate of now Patriarch Craig Bates and together, they left the Episcopal Church to be part of the ICCEC in January 1995. He served as Rector of Grace Church, the first church plant out of the Church of the Intercessor, for 10 years before becoming Rector of Church of the Redeemer in Northport, AL. His heart has always been to see the church in visible unity across denominational and racial lines, so in 2011 he left parish ministry to work full-time in this endeavor and Pillars of Reconciliation, a non-profit ministry, was born.
He works tirelessly through mentoring programs for at risk kids, Expanding Grace Margins (a ministry that facilitates the breaking down of cultural barriers). He has worked in the primary and middle schools to get pastors and Christians with a heart for change to come alongside our fatherless young men with the hope of breaking the cycles that lead to the hopelessness of the least, the lost and the forgotten of our community.
He desires to work with anyone who believes along with his Bishop, that to have a sustainable, transformational revival, the first step is to see the Church come together, in visible authentic unity so the world will know that Jesus is the real deal. He will go anywhere to speak to anyone who has a heart to see the Church dwell in unity where the Lord says he will "command the blessing". (Ps 133)
Father Mike lives in Selma with his wife Young, to whom he has been married since 1982. He has three grown sons.
My Story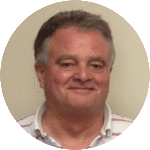 As a young man I was chasing the "American Dream" but the Lord grabbed hold of me at 28. I came to the Lord at Tabernacle of Prayer for All People in Jamaica, Queens, NY while Apostle Johnny Washington was preaching that "the devil is a liar, liar, liar". Shortly after that, I found myself in the affluent St Paul's Episcopal Church in Darien, CT, the church that then sent me to seminary. I was ordained a priest in the Episcopal Church (PEC USA) and served for 7 years before becoming a priest in the Charismatic Episcopal Church.
I have always been struck by how two churches, that couldn't be more different socially, culturally and racially, could be so similar in Spirit and in Truth. Through those experiences, God gave me a heart to bring the church together so the world would truly know that Jesus was sent by the Father to lead all men to Himself.
While serving in churches for 15 years in New York, I worked towards getting people to connect authentically and work together as a visible sign that Jesus can break down every "dividing wall of hostility, Jews and Gentiles", even what should be the utterly superficial distinction of black and white.
In 2006, I relocated to Alabama to become the rector of a church in Tuscaloosa and immediately became involved in the unity movement in the city.
In 2011, I heard Bishop Chuck Jones say, "There will not be a black revival and a white revival; there will be one revival." Those words prophesied into existence a new ministry called Pillars of Reconciliation and with it, my full time commitment to see churches come together in meaningful ministry to the least, lost and broken.
So, after 23 years of church ministry, I established a ministry founded on Micah 6:8 because Justice and Mercy are the pillars that will hold up any long term and authentic reconciliation. The first three years were focused on working with other ministries to bringing the Church together in Tuscaloosa, AL. As revival began in Selma, AL, I was eager be a part of it and work with Chuck Jones in the city that is synonymous with the division that the King of Kings wants to heal.
Reconciliation is key for revival because, in order for it to be sustainable, it must be all-inclusive; all races, all ages, all denominations.