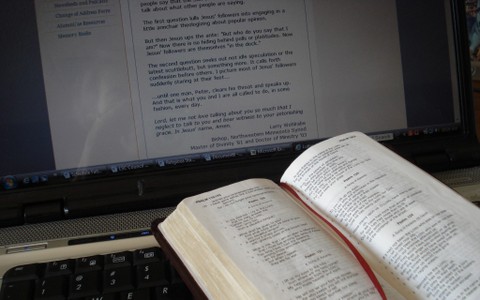 One Thing Devotional
I'm so grateful for the opportunities that I have everyday to be obedient. I've shared lately that in the time I have left on this earth, I want to love Him even more than I need him, and my need for Him is cavernous(as it should be). One of the most powerful ways we love on Him is by our obedience. That doesn't sound very romantic but it is. Obedience should be a passion, not just a duty. It's our way of offering Him something, that carries a price. Its wonderful to tell Him how much we love Him in words, and song, but if we are with great emotion telling Him how much we love Him, while at the same time living in disobedience, it's pretty meaningless. It would be similar to an adulterous Bride telling her Bridegroom how much she loves him while she continues to commit adultery. The words "I love you", wouldn't mean much to him.  Acts of obedience are acts of love by someone who longs to show, not just tell, someone they love them. John 14 says, "if you love me you will keep my commandments". Be a One Thing Lover. Be obedient. Even look for ways to be obedient(extra ways). Be a Lovesick romantic fool today, and lay at His nailed scarred feet a bouquet of love through your passionate acts of obedience. Go For It (HIM).
15If you [really] love Me, you will keep (obey) My commands.
16And I will ask the Father, and He will give you another Comforter (Counselor, Helper, Intercessor, Advocate, Strengthener, and Standby), that He may remain with you forever–
17The Spirit of Truth, Whom the world cannot receive (welcome, take to its heart), because it does not see Him or know and recognize Him. But you know and recognize Him, for He lives with you [constantly] and will be in you.
18I will not leave you as orphans [comfortless, desolate, bereaved, forlorn, helpless]; I will come [back] to you.
19Just a little while now, and the world will not see Me any more, but you will see Me; because I live, you will live also.
20At that time [when that day comes] you will know [for yourselves] that I am in My Father, and you [are] in Me, and I [am] in you.
21The person who has My commands and keeps them is the one who [really] loves Me; and whoever [really] loves Me will be loved by My Father, and I [too] will love him and will show (reveal, manifest) Myself to him. [I will let Myself be clearly seen by him and make Myself real to him.]
Truehearted, wholehearted, faithful and loyal,
King of our lives, by Thy grace we will be;
Under the standard exalted and royal,
Strong in Thy strength we will battle for Thee.
Refrain
Peal out the watchword! Silence it never!
Song of our spirits, rejoicing and free;
Peal out the watchword! Loyal forever!
King of our lives, by Thy grace we will be.
Wholehearted! Savior belovèd and glorious,
Take Thy great power and reign Thou alone,
Over our wills and affections victorious—
Freely surrendered and wholly Thine own.
Refrain
Truehearted, wholehearted! Fullest allegiance
Yielding henceforth to our glorious King!
Valiant endeavor and loving obedience
Freely and joyously now would we bring.
Refrain
Truehearted! Savior, Thou knowest our story,
Weak are the hearts that we lay at Thy feet,
Sinful and treacherous! yet, for Thy glory,
Heal them, and cleanse them from sin and deceit.
Refrain
Half-hearted, false-hearted! Heed we the warning!
Only the whole can be perfectly true;
Bring the whole offering, all timid thought scorning,
Truehearted only if whole-hearted too.
Refrain
Half-hearted! Savior, shall aught be withholden,
Giving Thee part Who has given us all?
Blessings outpouring, and promises golden
Pledging, with never reserve or recall!
Refrain
Half-hearted? Master, shall any who know Thee
Grudge Thee their lives, who has laid down Thine own?
Nay! we would offer the hearts that we owe Thee,
Live for Thy love and Thy glory alone.
Refrain
Sisters, dear sisters, the call is resounding,
Will ye not echo the silver refrain,
Mighty and sweet, and in gladness abounding?–
"Truehearted, whole-hearted!" ringing again.
Refrain
Jesus is with us, His rest is before us,
Brightly His standard is waving above!
Sisters, dear sisters, in gathering chorus,
Peal out the watchword of courage and love!
Further up and further in,
+Chuck
[caption id="attachment_902" align="alignnone" width="300" caption="Obedience. Our gift to God."][/caption] I'm so grateful for the opportunities that I have everyday to be obedient. I've shared lately that in the time I have left on this earth, I want to love Him even more than I need him, and my need for Him is cavernous(as it should be). One of the most powerful ways we love on Him is by our obedience. That doesn't sound very romantic but it is. Obedience should be a passion, not just a duty. It's our way of offering Him something, that carries a price. Its wonderful to tell Him how much we love Him in words, and song, but if we are with great emotion telling Him how much we love Him, while at the same time living in disobedience, it's pretty meaningless. It would be similar to an adulterous Bride telling her Bridegroom how much she loves him while she continues to commit adultery. The words "I love you", wouldn't mean much to him.  Acts of obedience are acts of love by someone who longs to show, not just tell, someone they love them. John 14 says, "if you love me you will keep my commandments". Be a One Thing Lover. Be obedient. Even look for ways to be obedient(extra ways). Be a Lovesick romantic fool today, and lay at His nailed scarred feet a bouquet of love through your passionate acts of obedience. Go For It (HIM). 15If you [really] love Me, you will keep (obey) My commands. 16And I will ask the Father, and He will give you another Comforter (Counselor, Helper, Intercessor, Advocate, Strengthener, and Standby), that He may remain with you forever-- 17The Spirit of Truth, Whom the world cannot receive (welcome, take to its heart), because it does not see Him or know and recognize Him. But you know and recognize Him, for He lives with you [constantly] and will be in you. 18I will not leave you as orphans [comfortless, desolate, bereaved, forlorn, helpless]; I will come [back] to you. 19Just a little while now, and the world will not see Me any more, but you will see Me; because I live, you will live also. 20At that time [when that day comes] you will know [for yourselves] that I am in My Father, and you [are] in Me, and I [am] in you. 21The person who has My commands and keeps them is the one who [really] loves Me; and whoever [really] loves Me will be loved by My Father, and I [too] will love him and will show (reveal, manifest) Myself to him. [I will let Myself be clearly seen by him and make Myself real to him.] Truehearted, wholehearted, faithful and loyal, King of our lives, by Thy grace we will be; Under the standard exalted and royal, Strong in Thy strength we will battle for Thee. Refrain Peal out the watchword! Silence it never! Song of our spirits, rejoicing and free; Peal out the watchword! Loyal forever! King of our lives, by Thy grace we will be. Wholehearted! Savior belovèd and glorious, Take Thy great power and reign Thou alone, Over our wills and affections victorious— Freely surrendered and wholly Thine own. Refrain Truehearted, wholehearted! Fullest allegiance Yielding henceforth to our glorious King! Valiant endeavor and loving obedience Freely and joyously now would we bring. Refrain Truehearted! Savior, Thou knowest our story, Weak are the hearts that we lay at Thy feet, Sinful and treacherous! yet, for Thy glory, Heal them, and cleanse them from sin and deceit. Refrain Half-hearted, false-hearted! Heed we the warning! Only the whole can be perfectly true; Bring the whole offering, all timid thought scorning, Truehearted only if whole-hearted too. Refrain Half-hearted! Savior, shall aught be withholden, Giving Thee part Who has given us all? Blessings outpouring, and promises golden Pledging, with never reserve or recall! Refrain Half-hearted? Master, shall any who know Thee Grudge Thee their lives, who has laid down Thine own? Nay! we would offer the hearts that we owe Thee, Live for Thy love and Thy glory alone. Refrain Sisters, dear sisters, the call is resounding, Will ye not echo the silver refrain, Mighty and sweet, and in gladness abounding?– "Truehearted, whole-hearted!" ringing again. Refrain Jesus is with us, His rest is before us, Brightly His standard is waving above! Sisters, dear sisters, in gathering chorus, Peal out the watchword of courage and love! Further up and further in, +Chuck