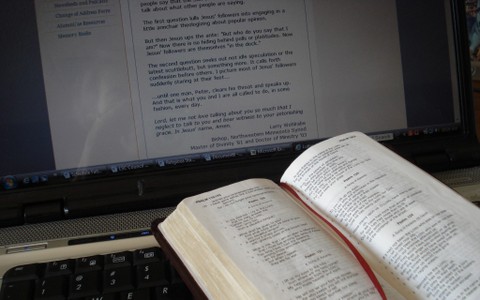 One Thing. Daily Devotional. 11/15/2011
I believe that true victory in our walk with Christ is often more reactive than It is proactive. Of course we constantly do proactive things to prepare us for the battle, but often the battle comes at us from unexpected places, and at unexpected times. When that happens, how we react to life will determine whether you are an Overcomer, or simply overcomed, and overwhelmed. Do you respond in frustration, anger, or do repond as one who lives with a consciousness that you are seated in the Heavenly places in Christ, and that He is in control of your life, and that He is winning. Ephesians 5:20 says, "Give thanks for all thing". Wow, what a different way to approach, and react to life. If all we ever do is react to people who disappoint us, and to circumstances that stress us, then we will forever live as frustrated victims, instead of the Victors in Christ we are called to be. let's spend our days responding to Him first, then to the thing, or person in front of us, instead of always reacting out of our flesh. Oh, by the way, how we respond is the true Battle, not the person, or circumstance. Have a victorious day.
1 Thessalonians 5:16-18
New King James Version (NKJV)
16 Rejoice always, 17 pray without ceasing, 18 in everything give thanks; for this is the will of God in Christ Jesus for you.
Encamped along the hills of light,
Ye Christian soldiers, rise.
And press the battle ere the night
Shall veil the glowing skies.
Against the foe in vales below
Let all our strength be hurled.
Faith is the victory, we know,
That overcomes the world.
Refrain
Faith is the victory! Faith is the victory!
O glorious victory, that overcomes the world.
His banner over us is love,
Our sword the Word of God.
We tread the road the saints above
With shouts of triumph trod.
By faith, they like a whirlwind's breath,
Swept on o'er every field.
The faith by which they conquered death
Is still our shining shield.
Refrain
On every hand the foe we find
Drawn up in dread array.
Let tents of ease be left behind,
And onward to the fray.
Salvation's helmet on each head,
With truth all girt about,
The earth shall tremble 'neath our tread,
And echo with our shout.
Refrain
To him that overcomes the foe,
White raiment shall be giv'n.
Before the angels he shall know
His name confessed in Heav'n.
Then onward from the hill of light,
Our hearts with love aflame,
We'll vanquish all the hosts of night,
In Jesus' conqu'ring
[caption id="attachment_866" align="alignnone" width="200" caption="Victory in Jesus"][/caption] I believe that true victory in our walk with Christ is often more reactive than It is proactive. Of course we constantly do proactive things to prepare us for the battle, but often the battle comes at us from unexpected places, and at unexpected times. When that happens, how we react to life will determine whether you are an Overcomer, or simply overcomed, and overwhelmed. Do you respond in frustration, anger, or do repond as one who lives with a consciousness that you are seated in the Heavenly places in Christ, and that He is in control of your life, and that He is winning. Ephesians 5:20 says, "Give thanks for all thing". Wow, what a different way to approach, and react to life. If all we ever do is react to people who disappoint us, and to circumstances that stress us, then we will forever live as frustrated victims, instead of the Victors in Christ we are called to be. let's spend our days responding to Him first, then to the thing, or person in front of us, instead of always reacting out of our flesh. Oh, by the way, how we respond is the true Battle, not the person, or circumstance. Have a victorious day. 1 Thessalonians 5:16-18 New King James Version (NKJV) 16 Rejoice always, 17 pray without ceasing, 18 in everything give thanks; for this is the will of God in Christ Jesus for you. Encamped along the hills of light, Ye Christian soldiers, rise. And press the battle ere the night Shall veil the glowing skies. Against the foe in vales below Let all our strength be hurled. Faith is the victory, we know, That overcomes the world. Refrain Faith is the victory! Faith is the victory! O glorious victory, that overcomes the world. His banner over us is love, Our sword the Word of God. We tread the road the saints above With shouts of triumph trod. By faith, they like a whirlwind's breath, Swept on o'er every field. The faith by which they conquered death Is still our shining shield. Refrain On every hand the foe we find Drawn up in dread array. Let tents of ease be left behind, And onward to the fray. Salvation's helmet on each head, With truth all girt about, The earth shall tremble 'neath our tread, And echo with our shout. Refrain To him that overcomes the foe, White raiment shall be giv'n. Before the angels he shall know His name confessed in Heav'n. Then onward from the hill of light, Our hearts with love aflame, We'll vanquish all the hosts of night, In Jesus' conqu'ring