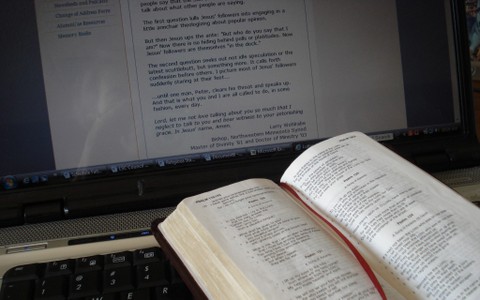 One Thing
I think that forgiveness is one of the most amazing words you will ever hear. We love to hear about things like power and anointing. Thoughts of the love of God blow us away(As it should). Grace, mercy, Intimacy, presence, and glory are such amazing words. You might be able to think of many other words that stir your soul, but I offer to you that forgiveness is both a foundational, and perennial expression of Gods Heart, that makes all these other truths a possibility in our lives. Forgiveness is the open door to all the riches of Christ that we all long to experience. Our need for forgiveness is a constant one, and without Gods Open Door policy of forgiveness, none of us would have gotten very far in our pursuit of Him. Forgiveness is the great word of OPPORTUNITY. It provides the opportunity for us to continue the adventure of the Born Again experience. Until we see Him face to face, we will keep discovering the wonders of being a New Creation. Without forgiveness that would not be possible. Forgiveness is our great friend, who is always there at our times of defeat, and failure, overcoming the voice of the Accuser, telling us to not quit, to get up and go, for the Opportunity to know our destiny is still there.  Forgiveness doesn't just prevent separation, it perpetuates limitless life in Christ  The fulfillment of the two great commandments are dependent on forgiveness. Jesus said that Mary Magdalene loved much because she was forgiven much. The degree with which we can comprehend an celebrate the forgiveness of God, is the degree to which You will love Him, and others. 
Well, let's stop there and pick up this awesome idea about forgiveness tomorrow. Have a great day, again, and again passing through the DOOR of OPPORTUNITY.
    3May blessing (praise, laudation, and eulogy) be to the God and Father of our Lord Jesus Christ (the Messiah) Who has blessed us in Christ with every spiritual (given by the Holy Spirit) blessing in the heavenly realm!
    4Even as [in His love] He chose us [actually picked us out for Himself as His own] in Christ before the foundation of the world, that we should be holy (consecrated and set apart for Him) and blameless in His sight, even above reproach, before Him in love.
    5For He foreordained us (destined us, planned in love for us) to be adopted (revealed) as His own children through Jesus Christ, in accordance with the purpose of His will [[b]because it pleased Him and was His kind intent]–
    6[So that we might be] to the praise and the commendation of His glorious grace (favor and mercy), which He so freely bestowed on us in the Beloved.
    7In Him we have redemption (deliverance and salvation) through His blood, the remission (forgiveness) of our offenses (shortcomings and trespasses), in accordance with the riches and the generosity of His gracious favor,
    8Which He lavished upon us in every kind of wisdom and understanding (practical insight and prudence),
Jesus! what a Friend for sinners!
Jesus! Lover of my soul;
Friends may fail me, foes assail me,
He, my Savior, makes me whole.
Refrain
Hallelujah! what a Savior!
Hallelujah! what a Friend!
Saving, helping, keeping, loving,
He is with me to the end.
Jesus! what a Strength in weakness!
Let me hide myself in Him.
Tempted, tried, and sometimes failing,
He, my Strength, my victory wins.
Refrain
Jesus! what a Help in sorrow!
While the billows over me roll,
Even when my heart is breaking,
He, my Comfort, helps my soul.
Refrain
Jesus! what a Guide and Keeper!
While the tempest still is high,
Storms about me, night overtakes me,
He, my Pilot, hears my cry.
Refrain
Jesus! I do now receive Him,
[or Jesus! I do now adore Him,] More than all in Him I find.
He hath granted me forgiveness,
I am His, and He is mine.
Further up and further in,
+Chuck

I think that forgiveness is one of the most amazing words you will ever hear. We love to hear about things like power and anointing. Thoughts of the love of God blow us away(As it should). Grace, mercy, Intimacy, presence, and glory are such amazing words. You might be able to think of many other words that stir your soul, but I offer to you that forgiveness is both a foundational, and perennial expression of Gods Heart, that makes all these other truths a possibility in our lives. Forgiveness is the open door to all the riches of Christ that we all long to experience. Our need for forgiveness is a constant one, and without Gods Open Door policy of forgiveness, none of us would have gotten very far in our pursuit of Him. Forgiveness is the great word of OPPORTUNITY. It provides the opportunity for us to continue the adventure of the Born Again experience. Until we see Him face to face, we will keep discovering the wonders of being a New Creation. Without forgiveness that would not be possible. Forgiveness is our great friend, who is always there at our times of defeat, and failure, overcoming the voice of the Accuser, telling us to not quit, to get up and go, for the Opportunity to know our destiny is still there.  Forgiveness doesn't just prevent separation, it perpetuates limitless life in Christ  The fulfillment of the two great commandments are dependent on forgiveness. Jesus said that Mary Magdalene loved much because she was forgiven much. The degree with which we can comprehend an celebrate the forgiveness of God, is the degree to which You will love Him, and others.  Well, let's stop there and pick up this awesome idea about forgiveness tomorrow. Have a great day, again, and again passing through the DOOR of OPPORTUNITY.     3May blessing (praise, laudation, and eulogy) be to the God and Father of our Lord Jesus Christ (the Messiah) Who has blessed us in Christ with every spiritual (given by the Holy Spirit) blessing in the heavenly realm!     4Even as [in His love] He chose us [actually picked us out for Himself as His own] in Christ before the foundation of the world, that we should be holy (consecrated and set apart for Him) and blameless in His sight, even above reproach, before Him in love.     5For He foreordained us (destined us, planned in love for us) to be adopted (revealed) as His own children through Jesus Christ, in accordance with the purpose of His will [[b]because it pleased Him and was His kind intent]--     6[So that we might be] to the praise and the commendation of His glorious grace (favor and mercy), which He so freely bestowed on us in the Beloved.     7In Him we have redemption (deliverance and salvation) through His blood, the remission (forgiveness) of our offenses (shortcomings and trespasses), in accordance with the riches and the generosity of His gracious favor,     8Which He lavished upon us in every kind of wisdom and understanding (practical insight and prudence), Jesus! what a Friend for sinners! Jesus! Lover of my soul; Friends may fail me, foes assail me, He, my Savior, makes me whole. Refrain Hallelujah! what a Savior! Hallelujah! what a Friend! Saving, helping, keeping, loving, He is with me to the end. Jesus! what a Strength in weakness! Let me hide myself in Him. Tempted, tried, and sometimes failing, He, my Strength, my victory wins. Refrain Jesus! what a Help in sorrow! While the billows over me roll, Even when my heart is breaking, He, my Comfort, helps my soul. Refrain Jesus! what a Guide and Keeper! While the tempest still is high, Storms about me, night overtakes me, He, my Pilot, hears my cry. Refrain Jesus! I do now receive Him, [or Jesus! I do now adore Him,] More than all in Him I find. He hath granted me forgiveness, I am His, and He is mine. Further up and further in, +Chuck