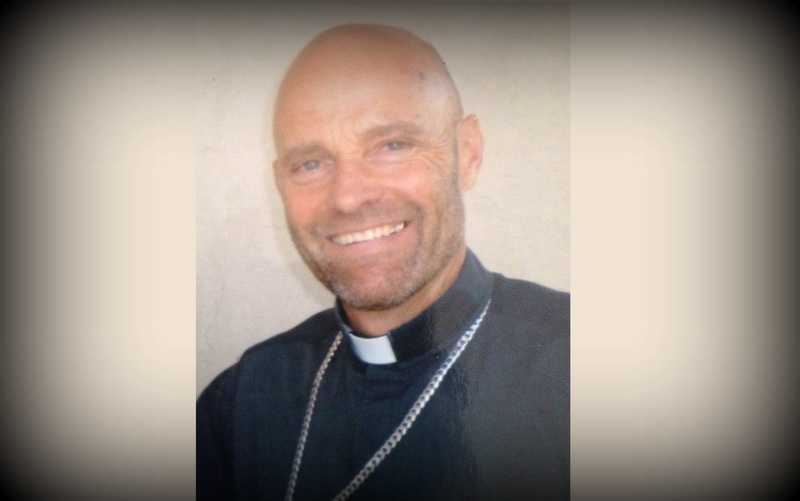 Mark Finley's Testimony
A Testimony from School of Prophets 2014
by Fr. Mark Finley
Meridian, Idaho
The following is my testimony from my time at the School of Prophets in Selma, Alabama, May 15, 16, and 17, 2014. It was without question one of the most impacting experiences I have ever had. I feel singularly privileged to have been there. I felt in many ways it was just for me. The teachings were outstanding and the personal prophecies were life changing. The structure and rhythm of the weekend was perfect. I hope others had the same experience. I hope this testimony will serve as a witness to God's graciousness and an encouragement to many.
My name is Mark Finley. I am a priest in the CEC. I am from Meridian, Idaho. It was confirmed by several people that I was to come. So I did. I came with great hope and expectancy. I came with many questions. I came wanting to hear from the Lord. I came feeling desperate.
I had never been to Selma, Alabama. I had never met Archbishop Jones.
I received four words that were recorded during the sessions. I received many more that were not recorded. All of them were absolutely right on. There was a miraculous flow to them. I would like to share a few of these as examples of God's providence.
We arrived Wednesday evening. Upon registering I chatted with a few of the Christ the King parishioners. I went and got settled in my motel room and then came back for the Wednesday evening service. Upon walking into the church, I was greeted by Linda, who had been the registration person. She had received a word for me. It was Isaiah 40:13. It was amazing. It brought tears to my eyes. I felt safe. I felt encouraged. To think, right off the bat I get a word from the Lord. Wow!
I had talked to my good friend, Fr. Bill McLoughlin, a priest in the CEC from North Carolina, about wanting to get a prophetic word. He encouraged me to approach Archbishop Jones and ask him for one. After the Wednesday evening service, Fr. Bill introduced me to Archbishop Jones. Now I had officially met him.
Thursday morning I was laying on my bed in the motel room, asking the Lord whether or not I should approach Archbishop Jones and ask him for a prophetic word .What I heard was, "let him come to you." So I went over to the church for the first session. Needless to say I was waiting for something to happen. I was on pins and needles, as the saying goes. I was even wondering, "Lord was that you that had spoken to me earlier about 'letting him come to me'". The mental gymnastics I can go through is tiring at times! [It is somewhat comical my trying to figure out how this 'let him come to me' thing was going to play out.] We had some time for worship. The first session began. Archbishop Jones began the first session and about twenty minutes or so into his teaching time,. he walked out from behind the podium, and looked at me and said, "Mark, from Idaho, right?" The Lord had given him a word for me. It dealt specifically with the Lord releasing in me the 'prophetic' and 'signs and wonders'. If the camera had been on my face it would have been priceless! I could feel my jaw hit the floor, my eyes grow to about ten times their normal size, etc. I was shocked! I was elated! I was, in an instant soaring on eagle's wings, as it says in Isaiah 40:13, the passage Linda had received earlier for me. Wow! To think that God had actually heard my cry for more of Him and more of the prophetic and signs and wonders that I had prayed asking the Father would impart this to me. I had not told anyone that at Christ the King.
Next was the noon Eucharist. I went up for prayer. Fr. Dan Witt prayed with me. I wanted prayer for the anxiety I had been feeling for a long time. He began to pray and asked if I had gone through any 'losses' lately. I had. I had never met or talked with Fr. Witt in my life. He had three words for me regarding losses, curses and blessings. It was amazing.
Thursday evening's teaching and prophetic ministry session was a fantastic thing to be a part of. Andrew, A young man on the prophetic ministry team, had a word for me. It dealt with the difficulties I had been experiencing. It was spot on. Another young man came up later confirming Andrew's word to me. Then a deacon came to me and gave me a word. As we were getting ready to leave the church a woman came up and had a word for me. I had never met her. I was later to find out she was Fr. Witt's wife. Her word from the Lord for me was again confirming what I had been going through and how the Lord was with me and how I needed to be responding. I later talked with Fr. Witt who gave me great council on how to proceed with the word he had received for me. Before going back to my room I had asked Archbishop Jones if I might have an opportunity to talk with him about a couple of things. He told me to remind him on Friday morning.
Friday I was able to meet with Archbishop Jones briefly on Friday morning. I talked with him about four things that were of concern to me. He had wise council, and a prophetic word for me.
Friday at noon we again celebrated the Eucharist. Christ the King's prophetic team began to minister. Fr. Craig, whom I had never before met, had a word for me. It had in part to do with Gideon's fleece. Archbishop Jones began to laugh. He said something like, "God is so good." This was a word that was confirming part of the conversation I had had earlier with Archbishop Jones!
On Friday afternoon, during the worship time I received a word from Shelby that was very affirming and encouraging about worship. I had been praying for quite a while on being able to worship the Lord more. Another amazing encounter with the Father's goodness in always hearing us. I had not told anyone about my having been praying about this.
On Saturday, Archbishop Jones summarized the conference. He continued to remind us how important it is to spend time with the Lord in prayer, 'behind the veil', and how imperative it is to be 'intentional'. Admonitions we all need to take to heart. He also had one last word for me about how far I had come during this time at the School of Prophets. The Lord had given him a vision that had to do with me having jumped over the Grand Canyon. That was amazing beyond words!
There is so much more I could say about all of it. Additional prophecies, the teaching sessions, time of impartation, worship, celebration of the Eucharist, etc. The Christ the King community is the most amazing group of Christians I have been around in my life. I look forward to staying in touch with this community. I look forward to future opportunities to come worship with them and hopefully attend future conferences such as this.
This is the real thing. God be praised!
Mark Finley
Meridian, Idaho
A Testimony from School of Prophets 2014 by Fr. Mark Finley Meridian, Idaho The following is my testimony from my time at the School of Prophets in Selma, Alabama, May 15, 16, and 17, 2014. It was without question one of the most impacting experiences I have ever had. I feel singularly privileged to have been there. I felt in many ways it was just for me. The teachings were outstanding and the personal prophecies were life changing. The structure and rhythm of the weekend was perfect. I hope others had the same experience. I hope this testimony will serve as a witness to God's graciousness and an encouragement to many. My name is Mark Finley. I am a priest in the CEC. I am from Meridian, Idaho. It was confirmed by several people that I was to come. So I did. I came with great hope and expectancy. I came with many questions. I came wanting to hear from the Lord. I came feeling desperate. I had never been to Selma, Alabama. I had never met Archbishop Jones. I received four words that were recorded during the sessions. I received many more that were not recorded. All of them were absolutely right on. There was a miraculous flow to them. I would like to share a few of these as examples of God's providence. We arrived Wednesday evening. Upon registering I chatted with a few of the Christ the King parishioners. I went and got settled in my motel room and then came back for the Wednesday evening service. Upon walking into the church, I was greeted by Linda, who had been the registration person. She had received a word for me. It was Isaiah 40:13. It was amazing. It brought tears to my eyes. I felt safe. I felt encouraged. To think, right off the bat I get a word from the Lord. Wow! I had talked to my good friend, Fr. Bill McLoughlin, a priest in the CEC from North Carolina, about wanting to get a prophetic word. He encouraged me to approach Archbishop Jones and ask him for one. After the Wednesday evening service, Fr. Bill introduced me to Archbishop Jones. Now I had officially met him. Thursday morning I was laying on my bed in the motel room, asking the Lord whether or not I should approach Archbishop Jones and ask him for a prophetic word .What I heard was, "let him come to you." So I went over to the church for the first session. Needless to say I was waiting for something to happen. I was on pins and needles, as the saying goes. I was even wondering, "Lord was that you that had spoken to me earlier about 'letting him come to me'". The mental gymnastics I can go through is tiring at times! [It is somewhat comical my trying to figure out how this 'let him come to me' thing was going to play out.] We had some time for worship. The first session began. Archbishop Jones began the first session and about twenty minutes or so into his teaching time,. he walked out from behind the podium, and looked at me and said, "Mark, from Idaho, right?" The Lord had given him a word for me. It dealt specifically with the Lord releasing in me the 'prophetic' and 'signs and wonders'. If the camera had been on my face it would have been priceless! I could feel my jaw hit the floor, my eyes grow to about ten times their normal size, etc. I was shocked! I was elated! I was, in an instant soaring on eagle's wings, as it says in Isaiah 40:13, the passage Linda had received earlier for me. Wow! To think that God had actually heard my cry for more of Him and more of the prophetic and signs and wonders that I had prayed asking the Father would impart this to me. I had not told anyone that at Christ the King. Next was the noon Eucharist. I went up for prayer. Fr. Dan Witt prayed with me. I wanted prayer for the anxiety I had been feeling for a long time. He began to pray and asked if I had gone through any 'losses' lately. I had. I had never met or talked with Fr. Witt in my life. He had three words for me regarding losses, curses and blessings. It was amazing. Thursday evening's teaching and prophetic ministry session was a fantastic thing to be a part of. Andrew, A young man on the prophetic ministry team, had a word for me. It dealt with the difficulties I had been experiencing. It was spot on. Another young man came up later confirming Andrew's word to me. Then a deacon came to me and gave me a word. As we were getting ready to leave the church a woman came up and had a word for me. I had never met her. I was later to find out she was Fr. Witt's wife. Her word from the Lord for me was again confirming what I had been going through and how the Lord was with me and how I needed to be responding. I later talked with Fr. Witt who gave me great council on how to proceed with the word he had received for me. Before going back to my room I had asked Archbishop Jones if I might have an opportunity to talk with him about a couple of things. He told me to remind him on Friday morning. Friday I was able to meet with Archbishop Jones briefly on Friday morning. I talked with him about four things that were of concern to me. He had wise council, and a prophetic word for me. Friday at noon we again celebrated the Eucharist. Christ the King's prophetic team began to minister. Fr. Craig, whom I had never before met, had a word for me. It had in part to do with Gideon's fleece. Archbishop Jones began to laugh. He said something like, "God is so good." This was a word that was confirming part of the conversation I had had earlier with Archbishop Jones! On Friday afternoon, during the worship time I received a word from Shelby that was very affirming and encouraging about worship. I had been praying for quite a while on being able to worship the Lord more. Another amazing encounter with the Father's goodness in always hearing us. I had not told anyone about my having been praying about this. On Saturday, Archbishop Jones summarized the conference. He continued to remind us how important it is to spend time with the Lord in prayer, 'behind the veil', and how imperative it is to be 'intentional'. Admonitions we all need to take to heart. He also had one last word for me about how far I had come during this time at the School of Prophets. The Lord had given him a vision that had to do with me having jumped over the Grand Canyon. That was amazing beyond words! There is so much more I could say about all of it. Additional prophecies, the teaching sessions, time of impartation, worship, celebration of the Eucharist, etc. The Christ the King community is the most amazing group of Christians I have been around in my life. I look forward to staying in touch with this community. I look forward to future opportunities to come worship with them and hopefully attend future conferences such as this. This is the real thing. God be praised! Mark Finley Meridian, Idaho